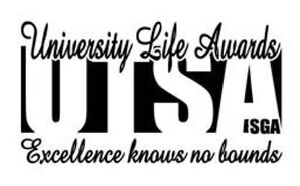 The University Life Awards are one of SGA's oldest traditions. They honor student leadership each April and usually take the place of the final General Assembly meeting of the reigning SGA administration. Having been held in the Retama Auditorium and most recently in the UC Ballroom, the event usually takes up around a $7,000 section of SGA's operating budget.
The individual awards available are Most Outstanding Student (one for each classification: Freshman, Sophomore, Junior, Senior, and Grad Student), the Jane Findling award, and the Golden Feather award. Organization awards include Most Outstanding Membership Development, Most Outstanding Service Program/Project, Most Outstanding Cultural/Religious Awareness Program, and Most Outstanding RSO. Faculty and staff awards include Most Outstanding Support Staff Member, Most Outstanding Professional Staff Member, Diane Abdo Outstanding Organization Advisor, Alumni Association's Distinguished Faculty Teaching Award (tenure track), and Outstanding Undergraduate Academic Advisor.
Some external offices have used ULA as a platform to honor their own awardees. Campus Recreation usually uses the event to honor an intramural referee, a male and a female intramural participant, and Group Ex participant. Each College presents its student of the year awards. Greek Life presents their man and woman of the year awards. Housing also often uses ULA to honor a Resident Assistant of the Year.
Disclaimer
This wiki is not owned or operated by The University of Texas at San Antonio. It is independent and unofficial and its views reflect those of its contributors in the UTSA community--students, alumni, and anyone else interested in helping out.