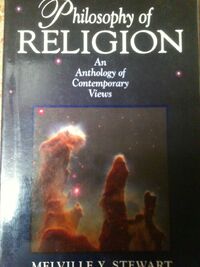 PHI 3013 Philosophy of Religion is an upper division philosophy course that counts as a major elective. It has been a UTSA course since the university began undergraduate courses in 1975[1] and its course description has never changed.[2] Typically, the assigned reading is an anthology of philosophy of religion essays.
The class averages being offered around once per year and is usually taught by Dr. Almeida in the MH building.[3]
Course description
Edit
"Examination of traditional religious beliefs and such concepts as faith and knowledge, mysticism and theology, the existence and nature of God, and the relation of religion to experience and social life."[2]
References
Edit
↑ "Division of English, Classics, and Philosophy". Undergraduate Catalog 1975-1976. Retrieved December 21, 2011.
↑ 2.0 2.1 "Philosophy Course Descriptions". Undergraduate Catalog 2010-2012. Retrieved December 21, 2011.
↑ "Archived class schedules". UTSA ASAP class schedules. Retrieved December 21, 2011.
External links
Edit
Disclaimer
This wiki is not owned or operated by The University of Texas at San Antonio. It is independent and unofficial and its views reflect those of its contributors in the UTSA community--students, alumni, and anyone else interested in helping out.