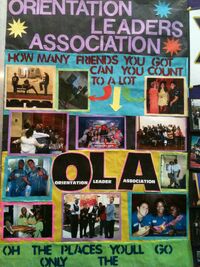 The Orientation Leader Association (or OLA) is the RSO that corresponds to the Orientation Leader class for the upcoming summer semester. Prospective orientation leaders enroll in a certain section of EDP or EDL 4953 to learn about UTSA to prepare for their summer tasks.
The OLA has won Best Overall at the 2005 and 2006 Golf Cart Parades and Most Spirit in 2008. It also won 1st and 3rd place in the 2006 and 2008 Window Wars respectively.
Many Mr. and Ms. UTSA finalists have been OLs, including Dustin Kuhn (2001), Dan Chappell (2003), Joseph Granado (2009), Melissa Valdez (2006), and winners Jackie Schelb (2005), BJ Winston (Fall 2011), Carl Willis (2014), and Adrian Guajardo (2015). Mr. UTSA 2004 Stephen Cheney became an OL after winning. Joseph Granado also won Student Leader of the Month for October 2008. The renamed award, Roadrunner of the Month, was won by student coordinator Jenn Preza for September 2010, by BJ Winston for February 2011, by Dezranique Stansberry for March 2011, and by Robert Bennett for March 2013.
Student Coordinators
Edit
Student coordinators are the students and former orientation leaders who supervise the orientation leaders. Strictly speaking, they are not OLs in that they do not have their own group of students or parents during the orientation sessions.
Supreme Team Challenge
Edit
Since 2005, each year's group of orientation leaders is broken up into teams named after colors. A points system determines the winning team in the "Supreme Team" challenge.
2005: Orange Team
2006: Black Team
2007:
2008: 
2009: Orange Team
2010: Blue Team
2011: Black Team
2012: White Team
2013: Orange Team
2014: Blue Team
Executive BoardEdit
2009-2010
President- Gretchen Doegenes
Vice President- Joseph Granado
Secretary- Jennifer Preza
2012-2011
President- Gretchen Doegenes
Vice President- Krystal Nicholson
Secretary- Victoria Carrilo
2011-2012
President- Diana Hernandez
Vice President- Jose Cordova
Secretary- Venus Mendoza
Treasurer- Porscha Presley
2012-2013
President: Jose Cordova
Vice President: Jenica Santos
Secretary- Julian Williams
Festivals
Edit
References
Edit
Disclaimer
This wiki is not owned or operated by The University of Texas at San Antonio. It is independent and unofficial and its views reflect those of its contributors in the UTSA community--students, alumni, and anyone else interested in helping out.