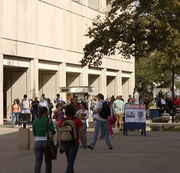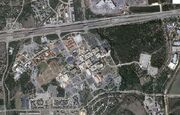 The Main Campus is UTSA's largest, oldest and busiest campus.[1] It has 29 buildings on 725 acres of land, with all of the on-campus complexes being located on its grounds.[1] A future Athletics Complex is being planned on 125 acres of the campus' land on Hausman Road.[1]
The Main Campus was born in 1970 when 600 acres were donated. The location at 1604 and I-10 proved so controversially remote that it was colloquially branded "The University of Texas at Boerne". Starting in 1973, during the Main Campus's construction, the university (which was only graduate students at first) had been housed at the Koger Executive Center at Babcock and 410.[2]
The Main Campus finally opened (and UTSA finally opened to undergraduate students) in 1975, with an enrollment of 2200.
[2]
Known simply as the "UTSA campus" until the
Downtown Campus
was acquired, the 1604 Campus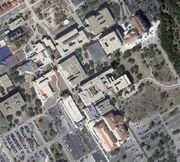 was renamed the Main Campus in 2009 to reflect the fact that its importance is not adequately described by the road it happens to be on.
[3]
[4]
The mailing address for the campus was changed from 6900 North Loop 1604 West to One UTSA Circle on April 3, 2006.[5]
References
Edit
↑ 1.0 1.1 1.2 "Main Campus". UTSA. Retrieved October 16, 2011.
↑ 2.0 2.1 "40th Anniversary Paisano-Online from 10/14/09. Retrieved November 12, 2011.
↑ "Campus Renaming Paisano-Online from 3/31/09. Retrieved November 12, 2011.
↑ "Campus Renaming UTSA Today from 3/23/09 c/o Internet Archive. Retrieved November 24, 2011.
↑ "UTSA Today". UTSA Today from 3/29/06. Retrieved November 11, 2011.
Disclaimer
This wiki is not owned or operated by The University of Texas at San Antonio. It is independent and unofficial and its views reflect those of its contributors in the UTSA community--students, alumni, and anyone else interested in helping out.