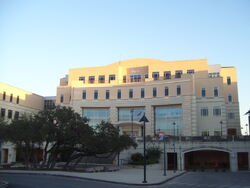 The Main Building (or MB) is where upper-level UTSA administrators have their offices: the university President, Vice President for Academic Affairs (and therefore Provost), Vice President for Student Affairs, Vice President for Business Affairs, Vice President for Research, and the Vice President for University Advancement. Only the Vice President for Community Services is elsewhere and his office is at the Downtown Campus. The building is also home to the Department of English, the Department of Communication, and the Department of Philosophy and Classics. It houses the East Asia Institute, International Programs office, and UTSA's largest classroom with 456 seats.
Ad blocker interference detected!
Wikia is a free-to-use site that makes money from advertising. We have a modified experience for viewers using ad blockers

Wikia is not accessible if you've made further modifications. Remove the custom ad blocker rule(s) and the page will load as expected.