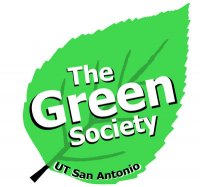 The Green Society is an ecological activism organization. It was founded in spring of 2007 and has hosted a camping retreat, the Think Outside the Bottle campaign, and socials and has participated in Best Fest, Golf Cart Parade, and football tailgating. In 2012, it won Best Small Organization at the Golf Cart Parade.
Member Lacy Guaderrama won Roadrunner of the Month for December 2010/January 2011.
2017-2018
Edit
President: Rebecca De Leon-Hutton
Vice President: Emily Baskett
Treasurer: Anthony Govea
Historian: Jaden
2011-2012
Edit
President: Merced Carbajal
Treasurer: Danny Khalil
Festivals
Edit
References
Edit
Disclaimer
This wiki is not owned or operated by The University of Texas at San Antonio. It is independent and unofficial and its views reflect those of its contributors in the UTSA community--students, alumni, and anyone else interested in helping out.