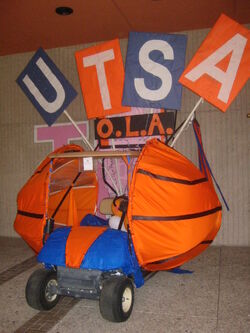 The Golf Cart Parade is probably UTSA's most anticipated Homecoming tradition each year. Sponsored by the Student Government Association, student organizations that choose to participate decorate a golf cart, rented by SGA, preferably in accordance with the Homecoming theme for that year. The parade has grown to the point where there are currently around 40 organizations that participate each year, with 5 awards being given out.
2011 (Spring)
Edit
2011 (Fall)
Edit
References
Edit
↑ "2005 Homecoming Winners". UTSA Homecoming website from 10/30/05 c/o Internet Archive. Retrieved November 24, 2011.
↑ "2008 Homecoming Winners". Student Affairs Staff News from 3/6/08. Retrieved November 24, 2011.
Disclaimer
This wiki is not owned or operated by The University of Texas at San Antonio. It is independent and unofficial and its views reflect those of its contributors in the UTSA community--students, alumni, and anyone else interested in helping out.
Ad blocker interference detected!
Wikia is a free-to-use site that makes money from advertising. We have a modified experience for viewers using ad blockers

Wikia is not accessible if you've made further modifications. Remove the custom ad blocker rule(s) and the page will load as expected.