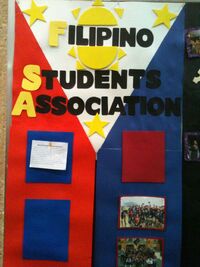 The Filipino Student Association (or FSA) is typically one of the largest organizations at UTSA. Its focus is Filipino students, but it also celebrates the cultures of all Asian-Americans, frequently having members and even officers of non-filipino descents. FSA is known for its choreographed hip-hop dance team performing in events such as Fiesta, Goodphil, and Isang Mahal, the latter two held within Texas.
FSA won Honorable Mention and 3rd Place in the Spring 2011 and Fall 2011 Window Wars competitions, respectively. FSA will play host to Goodphil 2013 held on campus on the first weekend of Spring Break 2013.
FSA member Jalen McKee was a finalist for Mr. UTSA 2015.
The UTSA chapter participates in the Goodphil competition each year against FSA chapters from other Texas universities. UTSA has won this competition in 1997, 1998, 2003, 2008, and 2015 and hosted the event in 1998, 2003, and 2008 and will host again in 2013.
Festivals
Edit
References
Edit
Disclaimer
Edit
This wiki is not owned or operated by The University of Texas at San Antonio. It is independent and unofficial and its views reflect those of its contributors in the UTSA community--students, alumni, and anyone else interested in helping out.