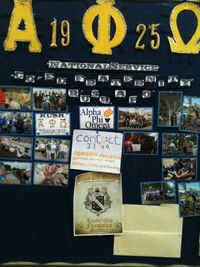 Alpha Phi Omega (or APO or AΦΩ) is a co-ed service fraternity. UTSA was home to the Alpha Gamma Omega chapter from April 3, 1993 until January of 2017, where the national fraternity declared the charter null and void due to lack of any active members remaining at UTSA.
APO tied for 2nd Place in 2007's Window Wars. It also fielded Mr. UTSA finalists Marcus Gilmore and Braden Wells in 2003 and 2007, respectively.  Braden Wells was admired and known in the San Antonio Community for his dedication to community service.  Braden served as Vice President at the time of his nomination.  Braden Wells was 2nd runner up for the title of Mr. UTSA. APO brother Christina Mondragon won Student Leader of the Month for November 2007.
Alpha Phi Omega was heavily involved in other organizations, including the founding of VOICES (which was aided by APO brother Tom Brown), SGA and several other fraternities and sororities (as APO is a co-educational fraternity with no housing, brothers are free to join other fraternities and sororities as the external organization rules permit).
Festivals
Edit
References
Edit
Disclaimer
This wiki is not owned or operated by The University of Texas at San Antonio. It is independent and unofficial and its views reflect those of its contributors in the UTSA community--students, alumni, and anyone else interested in helping out.